Skip to Main Content
It looks like you're using Internet Explorer 11 or older. This website works best with modern browsers such as the latest versions of Chrome, Firefox, Safari, and Edge. If you continue with this browser, you may see unexpected results.
Getting Started
1. Artist name and nationality. Correct spelling is very important.
2. Date (exact or approximate) of the object.
3. Title of the work.
4. Medium and/or technique. *Generally all of this information will be included on the label next to the object on exhibit.
5. Where is the work/who ows it. The museum or institution that owns the work will have helpful information.
Researching a Work of Art in a Museum Collection
Writing about a work of art requires the use of many sources, most importantly the art! In New York City, you don't have to go far to find a work of art, or information about it. This page provides a few tips on starting research and writing about a specific work in a New York City cultural institution.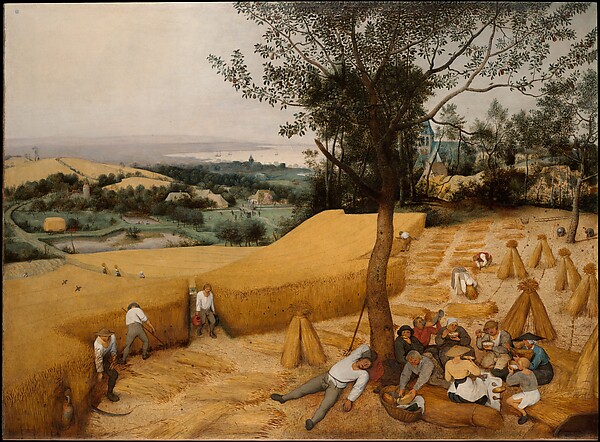 Artist name: Pieter Breughel the Elder, Netherlandish, Breda ca. 1525-1569 Brussels
Date: 1565
Title: The Harvesters
Medium: Oil on Wood
Where: Metropolitan Museum of Art
Find Information Online
The Metropolitan Museum of Art's website contains helpful information about works in its collection. Each work has a dedicated webpage. Always check the museum's website for info about a work of art you are writing about. For The Harvesters (to the left) you can find the following info here.
Description

Exhibition History

Bibliography with citations to books and articles about the painting and the artist

Entries in the Met's Heilbrun Timeline of Art History, an excellent resource
Guides to Writing About Art
Writing about Art

by

ISBN: 9781441486240

Publication Date: 2009-03-11

A Short Guide to Writing about Art

by

Call Number: N7476 .B37 2015

ISBN: 9780205886999

Publication Date: 2014-01-15
Library Media Resources Center
LaGuardia Community College
31-10 Thomson Avenue, room E101
Long Island City, NY 11101
Email the Library